A Groundbreaking new tool from V8.
Features and Specifications:
Thin, Narrow, Streamlined, Quick-adjusting and Lightweight
Jaw opening: ½" to 2", covering 50+ sizes.
Thickness: Jaws, the whole top of wrench
Head and the handle are 6mm thick Adjusting from ½" to 2" in 1 second.
Weight: 1.1lbs, comparable to a large size Service wrench.
Benefits: This revolutionary new design is based on the wishes of dozens of professional service wrench users. Benefits include: Fewer wrenches in your heavy tool box. Covers many new fitting sizes that are otherwise unavailabe. Frequently two wrenches of the same are needed to work on hydraulic lines. A pair of adjustables is very handy. Super thin wrench users: The jaws are thinner than Regular service wrenches per users' suggestions. They also may be used as super thin wrenches. Meet the increasing demands for large size super thin wrenches otherwise not yet available on the market. Plumbing, aircraft maintenance, heavy equipment users will also be interested. Handy do-it-yourselfers may also replace their old adjustables with this versatile modern one.



Specifications:
Jaw and handle Thickness: .25"
Jaw A Opens: 1/2" to 1-1/2"
Jaw B Opens: 1" to 2"
Length: 9"
---
V8 3803
Clip-on Magnetic Parts Dish
New Item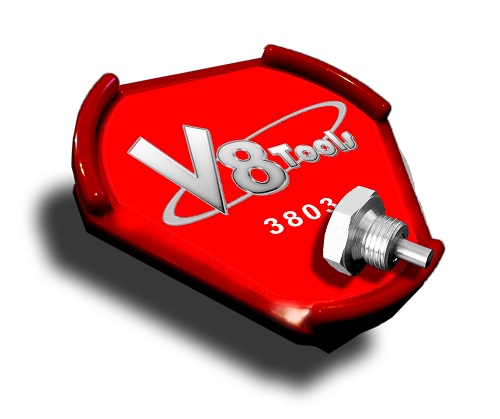 Just ask any mechanic if he or she has had the nightmare of delaying an important job because of ONE missing e-clip, bolt, or drain plug. If the answer is "Yes", he or she needs to wear the V8 3803 Clip-On Parts Dish.
Just clip the V8 3803 anywhere on yourself, and always have the right part or hand tool, right where you need it.

Clip it onto yourself as a holster for parts and small handtools.
Three powerful rare earth magnets hold securely.
Specially designed to hold long parts and tools.
Made of a strong durable plastic.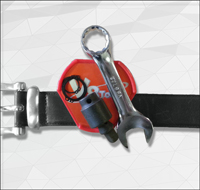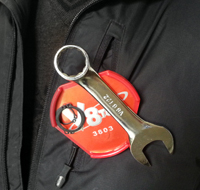 ---
<!-This is the table for the V8-9212 ->
V8 9212
12pc Jumbo Service Wrench Set
Updated with New Zinc Finish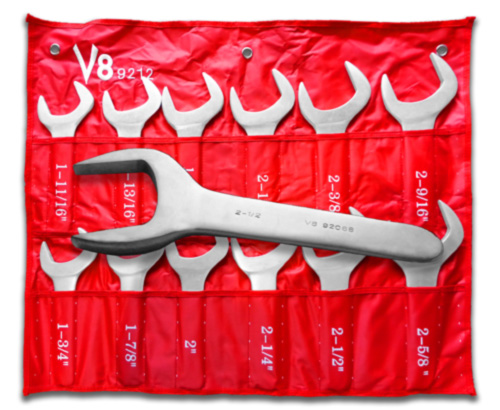 Sizes: :(1-11/16", 1-3/4", 1-13/16", 1-7/8", 1-15/16", 2",
2-1/8", 2-1/4", 2-3/8", 2-1/2", 2-9/16", 2-5/8")
V8 9212 Update
Due to numerous requests from heavy industry professionals, we have changed the coating of our V8-9212 Service Wrenches, from a Chrome to a Zinc finish. There are several very practical reasons for this change:

Our zinc finished service wrench is less slippery in greasy hands.
Zinc plating is far more enviromentally friendly.
Zinc coatings are the most widely used in the world. It is well tested.
---
<!-This is the table for the V8-1008 ->
V8 1008
Pull Rod Kit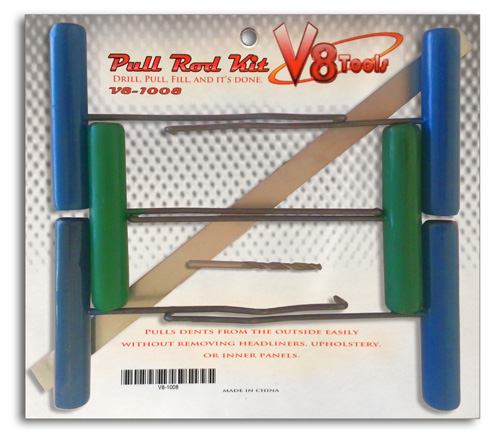 Introducing our new 8pc pull rod kit.
an economical and efficient tool to fix dents on car bodies.
just drill, pull, fill, sand and paint from outside the car body.
hooks are made of rust resistant alloy steel.
heat treated for strength.
drill bits are not under warranty.
---
<!-This is the table for the V8-989 ->
V8 989
Brake Spring Pliers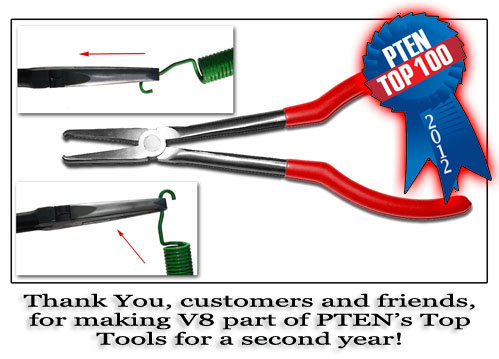 Brake spring removal and installation is always a tough job. A widely used tool for this job happens to be a pair of end cutters.

V8 Tools

has improved this tool by making it longer, with slightly wider and stronger tips that can hold the spring better without leaving deep cuts.

Our new "Brake Spring Pliers". offer more grip and control than ever before.

"These pliers are also great for removing and installing brake "shoe" return springs, shoe springs, pawl return springs, parking brake strut & strut springs, parking brake lever "C" clips. Great in bending and removing and installing bearing "nut lock" cotter pins. On worn out brake pads use the flat sides of the plier jaws to push-in caliper pistons to remove pads. Great for under hood work, old head lamp springs and auto door locking & unlocking hardware apparatus."

Thank you, Cyberphill for your great new uses for the V8-989!

Make brake jobs fast and easy.


Caution: When using our tools, always remember to wear protective eyewear and gloves!
---
<!-This is the table for the V8-8689 ->

V8 8689
3pc Tubing Bender/Plier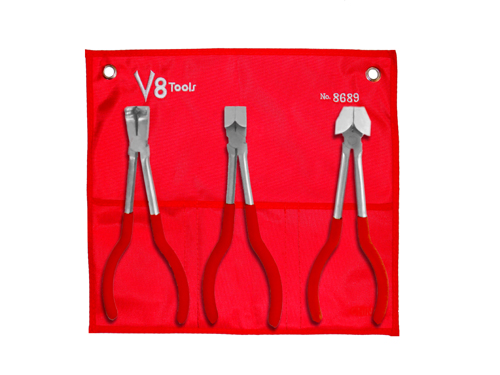 Patent Pending
One of the most difficult tasks for mechanics to master is fabricating tubing for cars and trucks. Previous tool designs had trouble making sharp bends, close compound bends, or 90 degree bends near mounted fittings. After all the bending, the tubing almost never fits perfectly onto the vehicle. Adjusting on cars is always difficult. V8 Tools' unique designs can make all types of bends quick and easy. You also can mount one end of the tubing onto the car and fine tune the bends to make the other end fit. Our benders give the user greater leverage, even when working with larger steel tubing.

Available in three popular sizes:
3/16" for brake lines.
1/4" for brake lines on larger cars and pick-ups and some cooling lines.
5/16" for cooling and fuel lines.
By popular request, we put all three sizes in a strong canvas pouch and they are now available as a set.
V8 tubing benders are among the 2010 Top 100 most requested tools by the readers of the Professional Tool and Equipment News. They are also a favorite among mechanics, fabricators, and custom car builders at every tool show V8 has participated.
---
<!-This is the table for the tubing bender clinic ->
Wouldn't you rather have V8 Tubing Benders?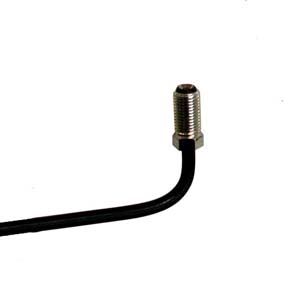 It makes sharp 90 degree bends, close to fittings.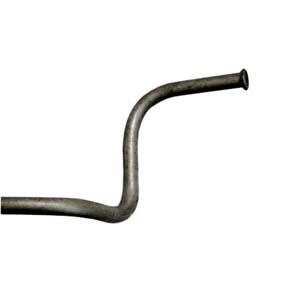 Make multiple compound bends, close to each other.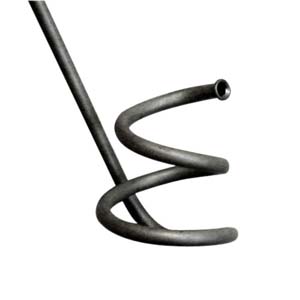 Easily make difficult coil bends.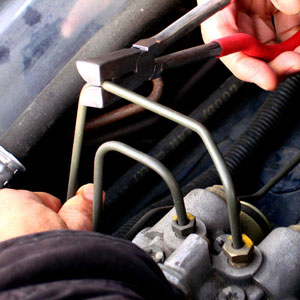 Bend tubing already attached to the vehicle for fine tuned adjustments.
It's easy to understand why V8 Tubing Benders are among Professional Tool & Equipment News Magazine's most requested new tools for 2010.
---
<!-This is the table for the V8-806 ->
V8 806
3/16" TUBING BENDER/PLIER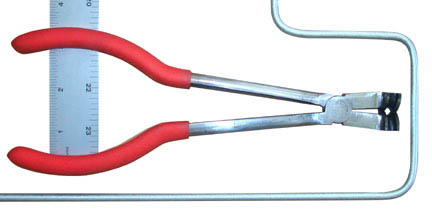 Patent Pending

OUR UNIQUE HEAD DESIGN ALLOWS FOR SHARPER BENDS WITHOUT COLLAPSING THE TUBING OR LEAVING A DEEP MARK ON THE SURFACE. WHEN CLOSED, THE TWO HANDLES ARE MORE THAN 3-1/4" APART AND ALLOW ENOUGH LEVERAGE TO BEND TOUGH STEEL TUBING EASILY. YOU MAY HOLD TUBING FIRMLY TO ALIGN AND ADJUST.
A note from the designer: I have tried a number of tubing pliers over the years. None of them has worked well for me. They typically come with a large head to fit both 3/16" and 1/4" tubing. But the handles do not give enough leverage to bend tough 1/4" steel tubing. The 1/4" part is not useful, it just makes the head bulkier. Even bending 3/16" tubing is not very easy. I also want to complain that the bending angle is not sharp enough. In addition, they tend to leave obvious cutting marks at the beginning of a bend. When use them as pliers to hold the tubing, they do not hold firmly. You can slide a tube in the closed jaws of these pliers. I believe V8 has come out with the best 3/16" tubing bending plier on the market. It works well and is reasonably priced.
---
<!-This is the table for the V8-808->
V8 808
1/4" Tubing Bender/Plier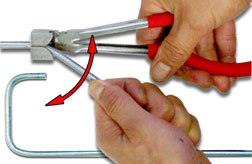 Our unique design gives a great deal of leverage, enough to bend tough 1/4" steel tubing. The special head design allows for sharp bends without collapsing the tubing or leaving deep cuts on the surface.
Patent Pending